Every­one agrees that email mar­ket­ing pays off.
A 2012 Direct Mar­ket­ing Asso­ci­a­tion sur­vey found that email mar­ket­ing had the strongest ROI of any mar­ket­ing vehi­cle. Click here for more details.
Many mar­keters – par­tic­u­lar­ly those start­ing up email pro­grams – ask whether they should spend the time to build their "house" list or to rent lists from 3rd par­ties.
The data is clear: invest in your house list first. And only con­sid­er rent­ing lists ("prospect" lists) if you've max­i­mized your "house" list.
Con­sid­er these met­rics from a recent DMA study: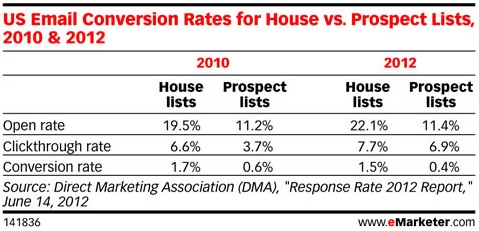 Some take­aways:
Email met­rics are still strong and in many cas­es improv­ing. Open and click through rates have increased over the 2 years. This is encour­ag­ing.
When com­par­ing just the 2012 results, the above data high­lights the fol­low­ing sta­tis­ti­cal advan­tages of lever­ag­ing a House List over a rent­ed list:

Open rate: + 94% Lift
Click through rate: 12% lift
Con­ver­sion rate: 257% lift
It is clear that the "house" list per­forms bet­ter- which is not sur­pris­ing since many of these peo­ple are cus­tomers or known prospects. Plus there is no rental cost when you use your own list.
How can you quickly scale your "house" list?
Now that we have focused on the big ben­e­fits of a "house" list, what are a few keys to build that list?
1. Make a com­pelling offer- pro­vide some­thing valu­able in return for their email address.
Many peo­ple place val­ue on their email address and will only pro­vide it when they feel they are get­ting some­thing valu­able in return. So give some thought to what you can offer your audi­ence that will entice them to trade.
Per­haps you offer a coupon for a future pur­chase or ear­ly access to future news of new prod­ucts. Or a free eBook. Or a sam­ple. Think about what is appeal­ing for your cus­tomer and afford­able to you and then test.
2. Let sub­scribers know what to expect — then deliv­er
Be clear with what or how often you will send emails. Is it dai­ly, week­ly, month­ly? Be clear.
And what will they be get­ting? News, pro­mo­tions, humor, etc.
3. Cre­ate a focused opt-in signup page– a side-bar on your site form is not notice­able enough.
Stud­ies show the more promi­nent and focused signup form and copy are, the more like­ly a per­son is to sign up. Cre­ate a land­ing page or even per­haps a pop-up box that sug­gests a sub­scrip­tion.
So as you con­sid­er where to focus your mar­ket­ing time in the com­ing months- con­sid­er focus­ing on email mar­ket­ing and devel­op­ing your house list as a big part of the effort.