Despite pre­dic­tions that it is quick­ly head­ed for the mar­ket­ing trash can, email mar­ket­ing con­tin­ues to gen­er­ate strong returns for mar­keters.
In fact, return on invest­ment (ROI) for send­ing out email cam­paigns to one's own 'house' list has the high­est return on any mar­ket­ing endeav­or.
Con­sid­er this:
Email brings in near­ly $40 for every dol­lar spent on it, accord­ing to the

DMA

.
This com­pares to cat­a­logs'

ROI

of $7.30; search­es return of $22.24; Inter­net dis­play adver­tis­ing's return of $19.72 and mobile's return of $10.51.
Email should play a big role in your mar­ket­ing pro­grams.
What are the lat­est trends in Email Mar­ket­ing?
Mar­keters con­tin­ue to have suc­cess in entic­ing recip­i­ents to open their emails. The chart below shows that open rates in 2012 are high­er than any time since 2010.
Click­through rates, though, are slid­ing a bit in 2012. In fact, they have dropped below 5% for the first time in a few years.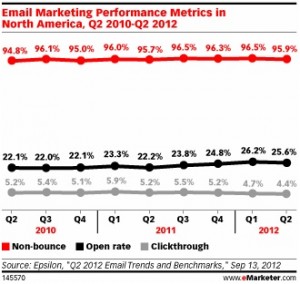 So what are mar­keters doing to boost the per­cent­age of recip­i­ents who click the email's "call to action"?
One major approach is to increase the use of "trig­gered emails" which are auto­mat­i­cal­ly sent emails based on behav­iors, prospect sta­tus or oth­er data-dri­ven fac­tors. For exam­ple, prospects who down­load a whitepa­per may get a series of fol­low-up emails relat­ed to the whitepa­per over the fol­low­ing month.
Research shows that these trig­gered emails get dou­ble the open rates and over dou­ble the click­though rates as reg­u­lar emails.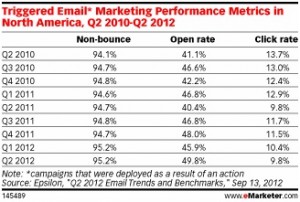 At SnapRe­tail, we also enjoyed con­sid­er­ably high­er met­rics with our trig­gered email cam­paigns. We used the mar­ket­ing automa­tion soft­ware pro­gram Par­dot to man­age these more sophis­ti­cat­ed sends.
So, expect email mar­ket­ing to con­tin­ue to stick around as a pro­duc­tive, prof­itable tool for mar­keters. And look to improve your results by employ­ing advanced tech­niques such as trig­gered sends.