Despite predictions that it is quickly headed for the marketing trash can, email marketing continues to generate strong returns for marketers.
In fact, return on investment (ROI) for sending out email campaigns to one's own 'house' list has the highest return on any marketing endeavor.
Consider this:
Email brings in nearly $40 for every dollar spent on it, according to the DMA.

This compares to catalogs' ROI of $7.30; searches return of $22.24; Internet display advertising's return of $19.72 and mobile's return of $10.51.
Email should play a big role in your marketing programs.
What are the latest trends in Email Marketing?
Marketers continue to have success in enticing recipients to open their emails. The chart below shows that open rates in 2012 are higher than any time since 2010.
Clickthrough rates, though, are sliding a bit in 2012. In fact, they have dropped below 5% for the first time in a few years.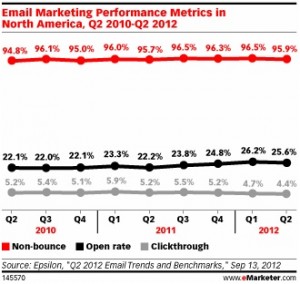 So what are marketers doing to boost the percentage of recipients who click the email's "call to action"?
One major approach is to increase the use of "triggered emails" which are automatically sent emails based on behaviors, prospect status or other data-driven factors.  For example, prospects who download a whitepaper may get a series of follow-up emails related to the whitepaper over the following month.
Research shows that these triggered emails get double the open rates and over double the clickthough rates as regular emails.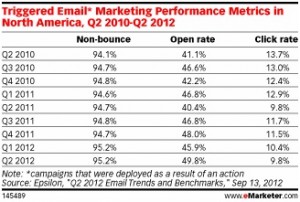 At SnapRetail, we also enjoyed considerably higher metrics with our triggered email campaigns. We used the marketing automation software program Pardot to manage these more sophisticated sends.
So, expect email marketing to continue to stick around as a productive, profitable tool for marketers. And look to improve your results by employing advanced techniques such as triggered sends.