Young companies tend to know their customers well and converse with them frequently in the early days of the business.
But as they scale to hundreds or thousands of customers, this connection becomes more difficult to maintain.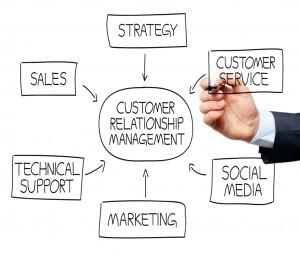 This is the point when a company needs to deploy the 'best of breed' business software to be sure you are collecting the right data, using it in the most effective ways, and providing the most value to your customers.
These systems include:
Customer Relationship Management (CRM) Systems for managing a company's interactions with customers, partners, and sales prospects. Examples: salesforce.com and Sugar CRM.
Marketing Automation Applications to streamline sales and marketing organizations by replacing high-touch, repetitive manual processes with automated solutions. Examples: Eloqua, Marketo, Exact Target.
Sales Force Automation (SFA) Software to efficiently collect orders with high sku-counts.
Aptus Digitial will help you define what you need, leads your implementation, and train your team to deliver outstanding sales and service.