I've long exclaimed the pow­er­ful and cost effec­tive fea­tures of email mar­ket­ing – par­tic­u­lar­ly for B2B mes­sag­ing. Here is a post from a few years ago.
Yet, email mar­ket­ing has been pro­claimed by pun­dits as "old school" and "bound to quick­ly recede." How­ev­er, recent reports sug­gest that email con­tin­ues to be a pow­er­ful tool for mar­keters. If any­thing, we are see­ing improve­ments in results from email cam­paigns. Con­sid­er the fol­low­ing.
Mar­keters find huge val­ue in email mar­ket­ing
The Direct Mar­ket­ing Asso­ci­a­tion sur­veyed mar­keters on which vehi­cles brought the strongest returns – email was over 4 times high­er than the alter­na­tives.
Email users reach huge per­cent­age of the pop­u­la­tion
Mar­keters pay pre­mi­ums for tele­vi­sion because of its wide reach (par­tic­u­lar­ly major events like the Super Bowl). Email, like TV, has mas­sive reach.
eMar­keter esti­mates that there will be 240.1 mil­lion email users in the US in 2016, account­ing for near­ly 89.8% of inter­net users and 74.1% of the pop­u­la­tion. This num­ber will grow to 258.9 mil­lion users in 2020.
Open rates hold strong – they get even bet­ter
Epsilon has been run­ning sur­veys on email met­rics for some time. They report that the trend in North Amer­i­ca is that open rates are trend­ing up — in fact, they are the high­est they've been since 2010 (extend­ing back beyond the peri­ods on this chart).
Click-through-rates (CTRs), though, have not seen this same rise. Keep read­ing for a rea­son why we see this decrease.
More peo­ple than ever view emails on their phones
Accord­ing to a recent IBM report, more peo­ple than ever (49%) view their emails on their phones. It is very easy to access email on our mobile devices – and per­haps this is why open rates con­tin­ue to be strong.
How­ev­er, if emails are not opti­mized for the small screens of phones, they will not be as effec­tive in get­ting engage­ment (clicks) and the results mar­keters are look­ing for. Per­haps this explains the drop in CTRs.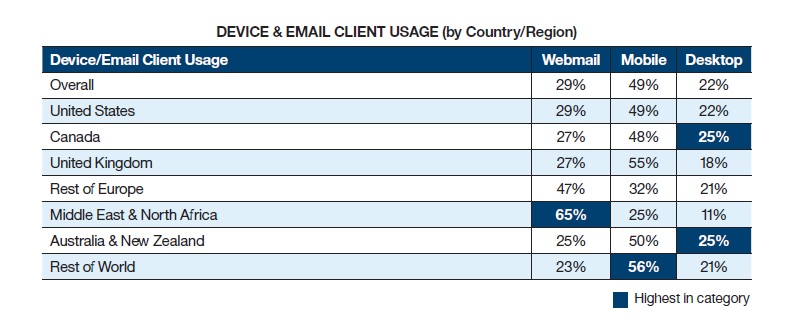 All in all, email mar­ket­ing con­tin­ues to be a pow­er­ful (if not the most pow­er­ful) arrow in a marketer's quiver. Embrace email mar­ket­ing.