With today being Halloween, I am passing out 4 bite-sized Marketing/Tech treats. Enjoy.
1. New Laws around SMS Messaging
Did you notice in mid-October that you were getting text messages from your favorite brands – asking you to sign up again for a text subscription?
You may have been wondering what is up.
On Oct 16, 2013, the FCC put into effect the Telephone Consumer Protection Act (TCPA) which makes it unlawful for a person to initiate a phone call or text to a residential line or wireless number for non-emergency purposes.  The exception is if the called party gives express written consent to the caller (that's why you got those SMS messages).
Fines for each unsolicited call or message carry a fine of up to $1500. Yikes.
If you do SMS, you'll want to know more. I recommend you read this summary.
2. Gmail Adds Filters
It's been a couple months since Google added filters to their email program.  Has it affected your email metrics?  
It's still early. But it does look like the feature is affecting some user's viewing habits. One survey found that 40% of consumers say they spend less time viewing promotional messages since the rollout of the feature.
All marketers should be taking basic steps to reduce the likelihood of your users missing your emails.
Check out this blog post for more details on Gmail's moves and steps to take to be sure emails are seen.
3. Ten Top Time-Saving Tips
Ever feel like it is so hard to keep up with all of our new gadgets and apps?  Looking for ways to get things done faster? I know I do.
Here is a fun video from one of my favorite tech writers David Pogue. David covers 10 time-saving tech tips in 6 minutes.  You'll have fun with this video.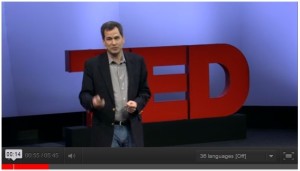 4. My Own Favorite Time-Saving Tip (iPhone users)
Looking for a contact or app or email quickly on your iPhone?
Apple offers an awesome search function that indexes everything on your phone including all of your email, contacts, calendar items and programs. The search results work great.
On iOS7, simply swipe down on the home screen; a search box and the keyboard will open (see below). Type in what you are looking for; the results popluare immediately.
On iOS6, you swipe to the right on your home page's first screen.
If you don't already use this function, try it today.  This is the fastest way to get to any contact.
What are your favorite time savers?