With today being Hal­loween, I am pass­ing out 4 bite-sized Marketing/Tech treats. Enjoy.
1. New Laws around SMS Mes­sag­ing
Did you notice in mid-Octo­ber that you were get­ting text mes­sages from your favorite brands – ask­ing you to sign up again for a text sub­scrip­tion?
You may have been won­der­ing what is up.
On Oct 16, 2013, the FCC put into effect the Tele­phone Con­sumer Pro­tec­tion Act (TCPA) which makes it unlaw­ful for a per­son to ini­ti­ate a phone call or text to a res­i­den­tial line or wire­less num­ber for non-emer­gency pur­pos­es. The excep­tion is if the called par­ty gives express writ­ten con­sent to the caller (that's why you got those SMS mes­sages).
Fines for each unso­licit­ed call or mes­sage car­ry a fine of up to $1500. Yikes.
If you do SMS, you'll want to know more. I rec­om­mend you read this sum­ma­ry.
2. Gmail Adds Filters
It's been a cou­ple months since Google added fil­ters to their email pro­gram. Has it affect­ed your email met­rics?
It's still ear­ly. But it does look like the fea­ture is affect­ing some user's view­ing habits. One sur­vey found that 40% of con­sumers say they spend less time view­ing pro­mo­tion­al mes­sages since the roll­out of the fea­ture.
All mar­keters should be tak­ing basic steps to reduce the like­li­hood of your users miss­ing your emails.
Check out this blog post for more details on Gmail's moves and steps to take to be sure emails are seen.
3. Ten Top Time-Saving Tips
Ever feel like it is so hard to keep up with all of our new gad­gets and apps? Look­ing for ways to get things done faster? I know I do.
Here is a fun video from one of my favorite tech writ­ers David Pogue. David cov­ers 10 time-sav­ing tech tips in 6 min­utes. You'll have fun with this video.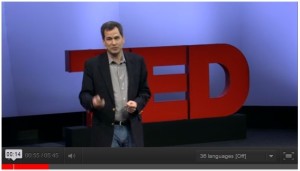 4. My Own Favorite Time-Saving Tip (iPhone users)
Look­ing for a con­tact or app or email quick­ly on your iPhone?
Apple offers an awe­some search func­tion that index­es every­thing on your phone includ­ing all of your email, con­tacts, cal­en­dar items and pro­grams. The search results work great.
On iOS7, sim­ply swipe down on the home screen; a search box and the key­board will open (see below). Type in what you are look­ing for; the results poplu­are imme­di­ate­ly.
On iOS6, you swipe to the right on your home page's first screen.
If you don't already use this func­tion, try it today. This is the fastest way to get to any con­tact.
What are your favorite time savers?