Shows are winding down, and we are now arriving back at our offices with (hopefully) stacks of orders and leads.
The question we need to ask is: what should we be doing to keep sales momentum going from the shows?
As the VP of Marketing  for 9 years for the largest gift/home sales agency, I have spent a lot of time reflecting on this question.
Here are 3 tips to employ to maximize your sales from the winter shows (including post- show sales)
1.  Send your customers a "Show Top Seller" list
We all love lists. I like the ubiquitous year-end rankings of "Top Movies of the Year." My 9-year son loves to Google search phrases like "best soccer goals ever." And buyers love to see what's selling best.  So combine the two to create your line's Top Seller list.
Here are the steps:
Go into your back end system and pull out the top selling sku's
Organize them so it is easy for your customers to follow (for example, combine multiple sku's of different colors or sizes into a single line item).
Create a focused email that features the Top Sellers. Post on Facebook and Twitter as well.
Ideally you'll create a website landing page with the sku's listed in descending order. Or you can create a PDF of the Top Sellers and post on your site as the landing page.
Have a clear Call to Action like "order online now"  or "call your rep"
And to whom do you send this email?
Certainly the retailers who did not make it to shows this winter. They likely have not seen any of your new products. Make the call to action here to "schedule an appointment with your rep today."
Also, send a slightly different email to those who already purchased at market. These customers almost certainly did not buy all your Top Sellers. But are probably interested in what they may have missed. Offer them this opportunity to fill in what they missed.
Aim to get this email out by early February to keep the momentum going from the shows.
2. Feature your new collections in a fun video
What's a better way to tell your story of this season's newest products than with a fun video?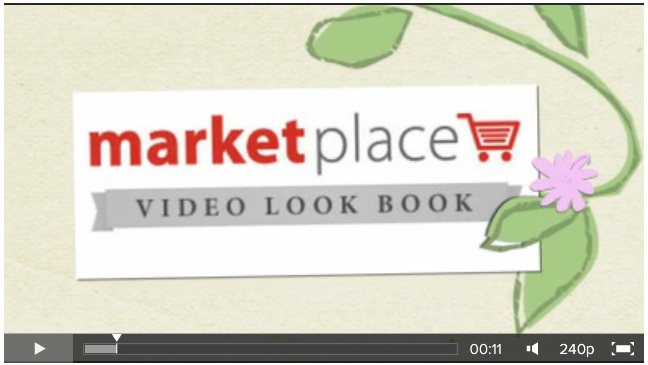 It can be a challenge to create the video before market (when it is crazy-busy with show prep), but now your team likely has a bit more time to create one.
And here's the great news- it can be fast and inexpensive to build a decent video.
At SnapRetail, we created this video (to left) with Animoto software in a few hours.
It is as simple as inserting images of your products into an existing Animoto video template; then you add some custom text and audio from Animoto's library.
Once you have completed your video (keep it under 2 minutes; 1 minute is even better), you'll want to be sure your customers and prospects see your newest products in the video.
Here are some good ways to get your video seen:
Post on your website (and when you have a few videos, create a company youtube channel)
Circulate a link to your video via email
Post it on your social media sites (Facebook, Pinterest, Twitter, youtube)
For companies who want to invest more in custom videos, you'll want to do something like this video from Alexas Angels.
3. Help your reps connect with your new prospects
Let's say you collect 1000 new leads at the shows.
Your reps may or may not have met the prospective buyers at market; either way all buyers should get follow-up emails from the shows.
Send the prospective buyers an email that:
Thanks them for visiting you at the show (be specific, say  the "Atlanta" show in email copy)
Highlights your newest products (include a link to your Top Sellers and a video) and why retailers were excited about your line at market
Offers them a special limited-time offer if they try your line for Spring
And, here is an important point: be sure to send each email "from" her specific rep and include her contact info in the email. See example.
Why personalize the emails from each rep?
The open and response rates from buyers are 2 to 4 times higher than when you send it from your company.  Why? It is simple; buyers recognize their reps.
The reps love the emails as well. You will build a lot of good will with the reps when you do this.
You might think this is a huge amount of work to personalize the emails. Actually, it can be done in a fairly fast, automated way.
If you have questions about anything here, shoot me an email or give me a call.
Have a successful post-show season!
Jeremy