Engaging with prospects can be a challenge for many B2B companies who are pitching their products to busy, senior-level executives.
Consider:
Few executives answer their office phones
Emails are often ignored or deleted
Many buildings are secure so drop-by's are difficult
LinkedIn's Inmail service can improve response rates, but is still hit-and-miss
An Aptus Digital client named Heeter faces a similar challenge. Heeter sells print, direct mail and fulfillment services to large companies; it is a complex sale, but once landed the relationships can blossom to 6 and 7 figures.
Heeter has a number of marquee clients (Highmark, Mylan, Clayton Kendall, casinos), but like any enterprise, it needs to open new accounts. The question we focused on is how should its sales team reach the Vice Presidents and Directors of Marketing at large companies who would find value in Heeter's products?
Our New Account Blitz
We knew we needed the Heeter salesperson to be able to sit down with a key person at the target company for at least 30 minutes. The rep needs to hear the prospect's challenges and be able to tell the Heeter story. The hope is that this 30 minutes turns into 90. And a second meeting.
But how does the rep get this 30 minutes in front of the prospect. Here's what we did:
In our increasingly digital world, mailings that are interestingly shaped and dimensional tend to get attention.  So we sent a thick 9" x 9" personalized envelope to 100 targeted senior executives.

Each envelope had the executive's name with a clearly labeled incentive to open the envelope.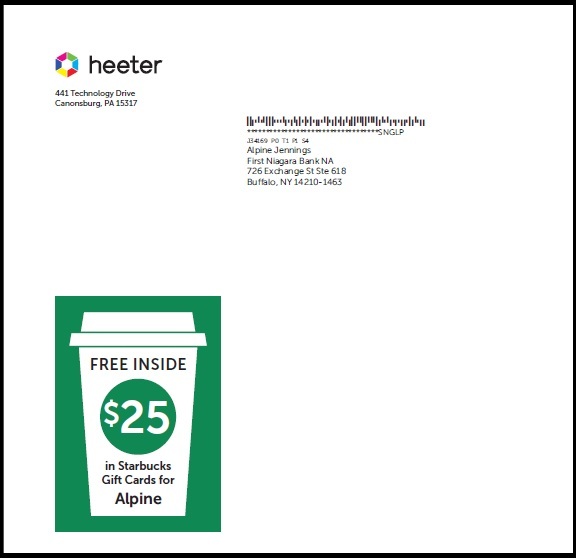 Given that it is winter in Pittsburgh, what sounds better than a hot cup of coffee from a trusted brand like Starbucks?
Inside the mailing was a letter that included an active $5 Starbucks' gift card (this is dimensional) along with the promise of an additional $20 gift card if the prospect meets with the Heeter sales person for 30 minutes.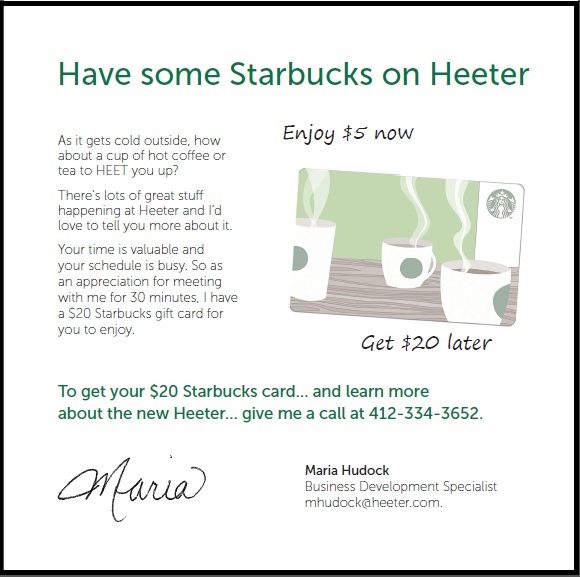 What came after the mailings?
A few days after the mailings, the sales team called the prospects- referencing  the promotion ("Did you get the Starbuck's gift card? I'd love to tell you about Heeter and give you the 2nd card.  Would you like to get a coffee?")
We supplemented the mailings and calls with a series of emails. Some busy executives like to respond via email during early mornings or late nights.
We also did a follow up mailing to help close sales with these prospects.
So how did we do with the promotion?
Heeter did very well. The creative spin and targeting paid off.
Of the 100 targeted companies, we had in-person meetings with executives at 25 companies which translates to a 25% engagement with senior marketing representatives.
Did these leads turn to sales? Yes, within 3 months, we opened business with 6 of the accounts and have advanced the relationships with many more.
As you put together your next New Account blitz, consider these best practices for calling senior level executives:
Get the attention of your prospect with a creative, appealing outreach
Persistence- the salespeople who reached out repeatedly to their prospects did best
Supplement mailings with digital messaging
Have some fun; it is harder for a target to  say no when he/she is chuckling at the campaign
Looking for creative ideas to connect with your prospects? Contact Aptus Digital.