Engag­ing with prospects can be a chal­lenge for many B2B com­pa­nies who are pitch­ing their prod­ucts to busy, senior-lev­el exec­u­tives.
Con­sid­er:
Few exec­u­tives answer their office phones
Emails are often ignored or delet­ed
Many build­ings are secure so drop-by's are dif­fi­cult
LinkedIn's Inmail ser­vice can improve response rates, but is still hit-and-miss
An Aptus Dig­i­tal client named Heeter faces a sim­i­lar chal­lenge. Heeter sells print, direct mail and ful­fill­ment ser­vices to large com­pa­nies; it is a com­plex sale, but once land­ed the rela­tion­ships can blos­som to 6 and 7 fig­ures.
Heeter has a num­ber of mar­quee clients (High­mark, Mylan, Clay­ton Kendall, casi­nos), but like any enter­prise, it needs to open new accounts. The ques­tion we focused on is how should its sales team reach the Vice Pres­i­dents and Direc­tors of Mar­ket­ing at large com­pa­nies who would find val­ue in Heeter's prod­ucts?
Our New Account Blitz
We knew we need­ed the Heeter sales­per­son to be able to sit down with a key per­son at the tar­get com­pa­ny for at least 30 min­utes. The rep needs to hear the prospect's chal­lenges and be able to tell the Heeter sto­ry. The hope is that this 30 min­utes turns into 90. And a sec­ond meet­ing.
But how does the rep get this 30 min­utes in front of the prospect. Here's what we did:
In our increas­ing­ly dig­i­tal world, mail­ings that are inter­est­ing­ly shaped and dimen­sion­al tend to get atten­tion. So we sent a thick 9" x 9" per­son­al­ized enve­lope to 100 tar­get­ed senior exec­u­tives.

Each enve­lope had the executive's name with a clear­ly labeled incen­tive to open the enve­lope.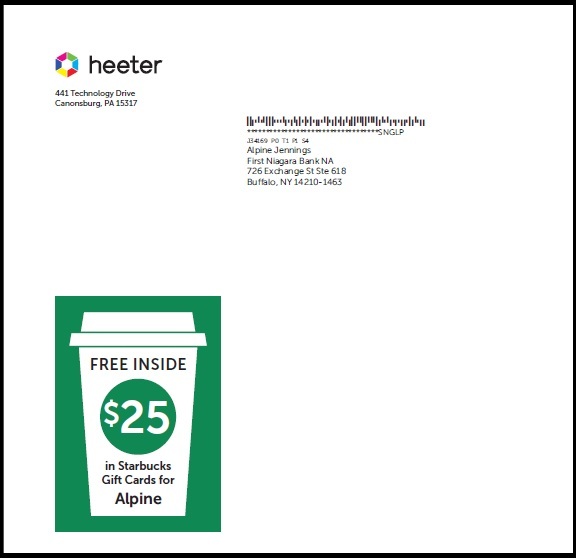 Giv­en that it is win­ter in Pitts­burgh, what sounds bet­ter than a hot cup of cof­fee from a trust­ed brand like Star­bucks?
Inside the mail­ing was a let­ter that includ­ed an active $5 Star­bucks' gift card (this is dimen­sion­al) along with the promise of an addi­tion­al $20 gift card if the prospect meets with the Heeter sales per­son for 30 min­utes.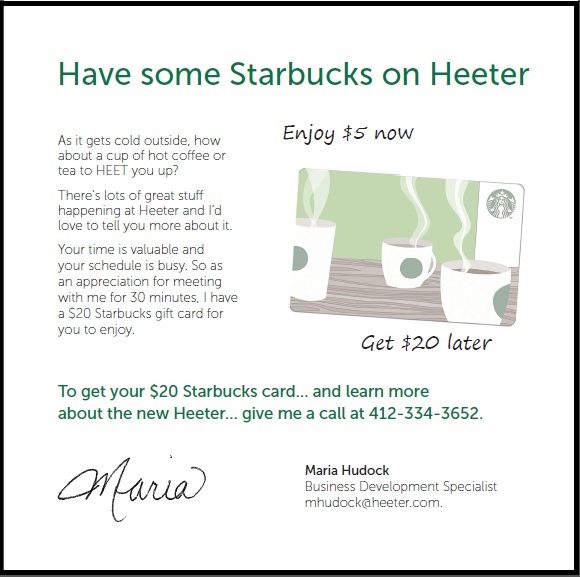 What came after the mailings?
A few days after the mail­ings, the sales team called the prospects- ref­er­enc­ing the pro­mo­tion ("Did you get the Starbuck's gift card? I'd love to tell you about Heeter and give you the 2nd card. Would you like to get a cof­fee?")
We sup­ple­ment­ed the mail­ings and calls with a series of emails. Some busy exec­u­tives like to respond via email dur­ing ear­ly morn­ings or late nights.
We also did a fol­low up mail­ing to help close sales with these prospects.
So how did we do with the promotion?
Heeter did very well. The cre­ative spin and tar­get­ing paid off.
Of the 100 tar­get­ed com­pa­nies, we had in-per­son meet­ings with exec­u­tives at 25 com­pa­nies which trans­lates to a 25% engage­ment with senior mar­ket­ing rep­re­sen­ta­tives.
Did these leads turn to sales? Yes, with­in 3 months, we opened busi­ness with 6 of the accounts and have advanced the rela­tion­ships with many more.
As you put together your next New Account blitz, consider these best practices for calling senior level executives:
Get the atten­tion of your prospect with a cre­ative, appeal­ing out­reach
Per­sis­tence- the sales­peo­ple who reached out repeat­ed­ly to their prospects did best
Sup­ple­ment mail­ings with dig­i­tal mes­sag­ing
Have some fun; it is hard­er for a tar­get to say no when he/she is chuck­ling at the cam­paign
Look­ing for cre­ative ideas to con­nect with your prospects? Con­tact Aptus Dig­i­tal.