U.S. adver­tis­ing spend­ing is expect­ed to grow a healthy 4.9% in 2012.*
Now, much of that increase is dri­ven by spe­cial events such as the Olympics and the nation elec­tions. Hey, we'll take it.
So how are mar­keters spend­ing that $166 bil­lion this year? And how will they spend their bud­gets over the fol­low­ing 4 years? Let's take a look with some num­bers from eMar­keter.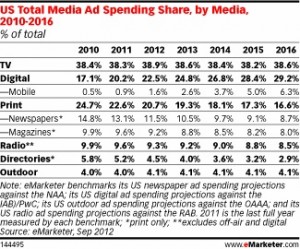 TV still reigns with the largest amount of ad spend. I am a big believ­er in people's enjoy­ment of the "video" for­mat. And giv­en the broadcaster's cre­ativ­i­ty and the large reach, TV will hold steady through 2016.
The big growth, of course, is dig­i­tal mar­ket­ing which includes search, video, email, etc. But, with­in dig­i­tal mar­ket­ing, the big dri­ver over the com­ing years is mobile. You can see it becomes 5% of the total ad spend by 2015 (over $8 bil­lion).
Why is dig­i­tal mar­ket­ing pick­ing up so much steam? Dig­i­tal mar­ket­ing is viewed as being more mea­sur­able than tra­di­tion­al media, and mar­keters like the results. They also like how dig­i­tal media can sup­port tra­di­tion­al media like TV in terms of user engage­ment.
So, as a mar­keter, you'll want to con­tin­ue to watch the devel­op­ment of dig­i­tal mar­ket­ing inno­va­tions- par­tic­u­lar­ly with mobile.
*eMar­keter, Sept 27, 2012.