Good news. We are mov­ing away from the tra­di­tion­al approach of "inter­rup­tion" mar­ket­ing (think TV with one mes­sage to all view­ers) to the more tar­get­ed approach of inbound mar­ket­ing where prospects sig­nal their inter­est for our prod­ucts and then we mar­ket to them with rel­e­vant mes­sages.
Makes sense, yes? So the ques­tion to mar­keters becomes: how should a com­pa­ny gauge a prospect's inter­est or need? This is where con­tent mar­ket­ing comes in.
What is con­tent mar­ket­ing?
Con­tent mar­ket­ing is when firms cre­ate valu­able con­tent that is of inter­est to mem­bers of the com­mu­ni­ty (cus­tomers, prospects, part­ners, press) in order to build trust and loy­al­ty in their brands and dri­ve prospects through the sales fun­nel. This con­tent is often offered for free and can be found eas­i­ly online (SEO, search engine opti­miza­tion, is impor­tant here).
A good exam­ple for B2B con­tent mar­ket­ing would be Mid-Atlantic Con­crete where Owen Blevins tapes and posts a series of videos on "all things con­crete" for the com­pa­ny's com­mu­ni­ty of con­crete buy­ers. Take a look at the videos.
Are lots of mar­keters invest­ing in con­tent mar­ket­ing?
Yes. Emar­keter did a sur­vey on how brand mar­keters were employ­ing con­tent mar­ket­ing. It found that an over­whelm­ing num­ber of brand mar­keters agreed that it was "key to cre­at­ing an emo­tion­al con­nec­tion with cus­tomers."
So what type of con­tent mar­ket­ing are these brands employ­ing?
The list below is not sur­pris­ing: email newslet­ters, social media, blogs, videos, etc.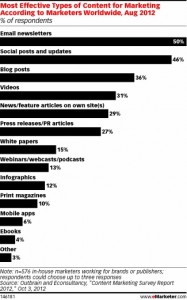 These types of con­tent were the same ones we employed at my pre­vi­ous two com­pa­nies – OneCoast and SnapRe­tail. We did reg­u­lar edu­ca­tion­al newslet­ters, oper­at­ed a blog, and offered videos and sem­i­nars. All were free.
In addi­tion to the con­tent mar­ket­ing pro­grams, we also offered a high­er val­ue, more unqi­ue pro­gram to our com­mu­ni­ty of cus­tomers and prospects a cou­ple times a year.
One of our most suc­cess­ful of these pro­grams was called "30 Days to Amaz­ing Mar­ket­ing." It offered our inter­est­ed prospects a chance to receive a series of emails (5 emails once a week over 30 days) that pro­vid­ed bite-sized, easy-to-fol­low con­tent on mar­ket­ing top­ics of inter­est like social media, video and email mar­ket­ing.
We had a few goals with this pro­gram:
Engage with a group of prospects who were intim­i­dat­ed by tech­nol­o­gy and con­se­quent­ly slow to engage with our sales team (this is lead gen­er­a­tion- mov­ing prospects through the fun­nel)

Build trust and gain thought lead­er­ship with our com­mu­ni­ty (brand build­ing)

Engen­der loy­al­ty in our com­mu­ni­ty (retain­ing cus­tomers)
How did the pro­gram fare?
The "30 Days to Amaz­ing Mar­ket­ing" was a big hit.
We had near­ly 1000 peo­ple sign up – with very high open and click­though rates.

Our sales team would fol­low the progress of qual­i­fied prospects and check in with them to see if they had ques­tions. (Note: it is key to inte­grate the sales team with your con­tent mar­ket­ing pro­grams). At the con­clu­sion of the 30 days, the sales team would fol­low up to see if the retail­er would like a free tri­al, or even bet­ter, would like to buy a sub­scrip­tion to our soft­ware.

The sales team report­ed that retail­ers who went through this pro­gram were more qual­i­fied, felt more pos­i­tive­ly about our brand and were more will­ing to sign up. The "30 Days to Amaz­ing Mar­ket­ing" is a good exam­ple of a suc­cess­ful con­tent man­age­ment pro­gram.
What con­tent mar­ket­ing pro­gram could you offer your com­mu­ni­ty?