Good news. We are moving away from the traditional approach of "interruption" marketing (think TV with one message to all viewers) to the more targeted approach of inbound marketing where prospects signal their interest for our products and then we market to them with relevant messages.
Makes sense, yes? So the question to marketers becomes: how should a company gauge a prospect's interest or need? This is where content marketing comes in.
What is content marketing?
Content marketing is when firms create valuable content that is of interest to members of the community (customers, prospects, partners, press) in order to build trust and loyalty in their brands and drive prospects through the sales funnel. This content is often offered for free and  can be found easily online (SEO, search engine optimization, is important here).
A good example for B2B content marketing would be Mid-Atlantic Concrete where Owen Blevins tapes and posts a series of videos on "all things concrete" for the company's community of concrete buyers. Take a look at the videos.  
Are lots of marketers investing in content marketing?
Yes. Emarketer did a survey on how brand marketers were employing content marketing. It found that an overwhelming number of brand marketers agreed that it was "key to creating an emotional connection with customers."
So what type of content marketing are these brands employing?
The list below is not surprising: email newsletters, social media, blogs, videos, etc.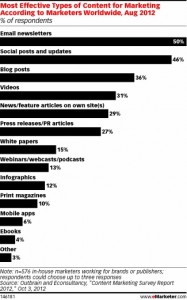 These types of content were the same ones we employed at my previous two companies – OneCoast and SnapRetail. We did regular educational newsletters, operated a blog, and offered videos and seminars. All were free.
In addition to the content marketing programs, we also offered a higher value, more unqiue program to our community of customers and prospects a couple times a year.
One of our most successful of these programs was called "30 Days to Amazing Marketing." It offered our interested prospects a chance to receive a series of emails (5 emails once a week over 30 days) that provided bite-sized, easy-to-follow content on marketing topics of interest like social media, video and email marketing.
We had a few goals with this program:
Engage with a group of prospects who were intimidated by technology and consequently slow to engage with our sales team (this is lead generation- moving prospects through the funnel)

Build trust and gain thought leadership with our community (brand building)

Engender loyalty in our community (retaining customers)
How did the program fare?
The "30 Days to Amazing Marketing" was a big hit.
We had nearly 1000 people sign up – with very high open and clickthough rates.

Our sales team would follow the progress of qualified prospects and check in with them to see if they had questions. (Note: it is key to integrate the sales team with your content marketing programs). At the conclusion of the 30 days, the sales team would follow up to see if the retailer would like a free trial, or even better, would like to buy a subscription to our software.

The sales team reported that retailers who went through this program were more qualified, felt more positively about our brand and were more willing to sign up. The "30 Days to Amazing Marketing" is a good example of a successful content management program.
What content marketing program could you offer your community?