Many of us are attract­ed to Pin­ter­est because of its visu­al nature.
But all of us should LOVE Pin­ter­est because of its impres­sive abil­i­ty to gen­er­ate sales on our com­merce web­sites.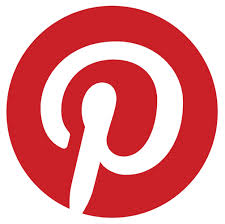 Some eye-opening facts: why should you care about Pinterest.
A. Pin­ter­est is refer­ring more and more peo­ple to web­sites. And these users are buy­ing.
Accord­ing to recent data from
RichRel­e­vance
: Pin­ter­est (with about 40 mil­lion active users) account­ed for 25% of total refer­ral sales from social media sites dur­ing the East­er 2013 sales peri­od.
Pin­ter­est ranks only 2nd to Face­book (which had 69% of pre-East­er refer­ral busi­ness); Twit­ter makes up the bal­ance. Remem­ber that Mark Zucker­berg's site has a stag­ger­ing 1 bil­lion active users. That's 25 times big­ger than Pin­ter­est.
So, pound for pound, Pin­ter­est is a heavy­weight in refer­ring users to site.
And here is big news for the Home/Gift Indus­try: Pin­ter­est is cham­pi­on among social media sites in this indus­try where 60% of web­site social media refer­rals come from Pin­ter­est.
This means the first social media site a home or gift com­pa­ny should focus on is Pin­ter­est- not Face­book!
B. Pin­ter­est gen­er­ates larg­er orders than Face­book
RichRel­e­vance also reports that shop­pers who were referred through Pin­ter­est spent approx­i­mate­ly $194 per online sales order, while Face­book shop­pers spent about $84 per order and Twit­ter shop­pers rung up $35 orders.
Second, given these trends, what steps should a a home or gift vendor be taking to be sure it is getting its share of Pinterest referrals?
1. Start by set­ting up a Pin­ter­est page for your busi­ness.
Check out this great page from Knock Knock, a gift ven­dor. Their page is fun, engag­ing and addic­tive.
Sara Hart­man, E‑Commerce Man­ag­er for the gift com­pa­ny, says "the key for us has been to remain true to the orig­i­nal spir­it of the net­work whose users tend to be cre­ative and enjoy cap­ti­vat­ing imagery."
Not sure how to set up your Pin­ter­est Page? It is sim­ple to get going; click here for details.
2. Add the "pin it" but­ton to the prod­uct pages on your web­site so your prod­ucts can be eas­i­ly pinned (lead­ing to views and refer­rals)
Read how to add to your site.
3. Encour­age your cus­tomers and oth­ers to "pin" your prod­ucts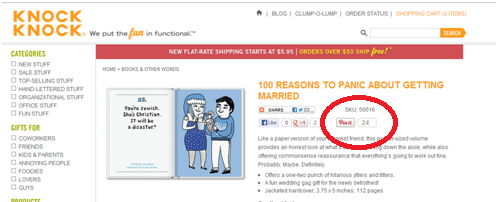 Lots of good tech­niques have been devel­oped to ensure your pins are active­ly been shared.
4. Cre­ate your own orig­i­nal con­tent about prod­ucts, trends, col­ors, etc.
In oth­er words, don't make your whole Pin­ter­est strat­e­gy about pin­ning your prod­ucts. Instead, sup­ple­ment your prod­uct pins with con­tent you cre­ate that appeals to your com­mu­ni­ty.
Sara Hart­man from Knock Knock adds that they post con­tent both from their own prod­ucts but also based on what their com­mu­ni­ty's sen­si­bil­i­ty admires.
The more orig­i­nal and con­tent is, the more your items will be pinned and shared – lead­ing to more traf­fic on your site.

Pin­ter­est is a great, free plat­form for you to dri­ve refer­rals and sales for your prod­ucts. Be sure you are tak­ing advan­tage of the oppor­tu­ni­ty since it can gen­er­ate strong sales for you.