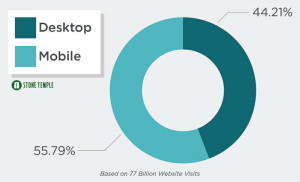 Did you know that more users view sites on mobile (smart phones + tablets) than on PCs (desk­tops + lap­tops) in 2017?
This means that your cus­tomers will be view­ing your web pages on 4–9 inch screens as opposed to 17–21 inch mon­i­tors. That is a very dif­fer­ent expe­ri­ence.
Does your com­pa­ny have a strat­e­gy to be sure your cus­tomers are hav­ing a sat­is­fy­ing expe­ri­ence?
Aptus Dig­i­tal will help you think through and imple­ment a mobile strat­e­gy which con­sid­ers mobile-opti­mized web­sites as well as mobile appli­ca­tions.